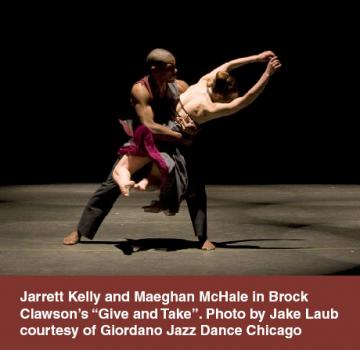 GIORDANO GIVES POWERHOUSE PREMIERE OF LOCAL CHOREOGRAPHER'S NEW PIECE
Hedy Weiss on March 16, 2009
No need to go shopping far and wide for choreographic talent. Sometimes it's right under your nose.
That is what dance companies in Chicago have been discovering in recent years as they increasingly foster and showcase the work of local dancers who have turned their energies to dancemaking. The latest case in point is Brock Clawson, who has worked extensively with Thodos Dance Chicago and now has created a real whopper of a new work for Giordano Jazz Dance Chicago.
"Give and Take", which received its world premiere this weekend as the Giordano company stormed the stage of the Harris Theater for Music and Dance, is a work of impressive polish, complexity and emotional sophistication. Designed for five couples, it is (true to its title) a look at male-female relationships, but its narrative is so beautifully woven into the overall patterning and tone of the dance that it never feels slavishly literal.
Using a combination of pas de deux, alternating all male and all female groups and multifaceted ensemble scenes, Clawson (who has set the piece to a bland yet effective soundscape by A'ME and Trentemollen) has created a mix of the lyrical, the sexy, the passionate, the dangerous and the unexpected. Employing deep diagonal embraces and beautifully imagined contractions and releases, he suggests closeness alternating with tension. Five men move along the floor in an almost animalistic way. A group of women spin, creating a sense of whirling, breathy excitement. The partnering is difficult and freshly expressive. And the ending is quite a surprise.
The dancers — Lindsey Leduc Brenner, Zachary Heller, Craig Kaufman, Jarrett Kelly, Meghan McDermott, Maeghan McHale, Robert Mckee, Cesar Salinas, Meredith Schultz and Ashley Lauren Smith — brought a flawless ferocity to everything they did. And Branimira Ivanova's costumes — particularly the gauzy charcoal dresses with red underskirts for the women — added immensely to the overall effect. "Give and Take" is a tremendously accomplished work, and a real keeper for Giordano's rep.