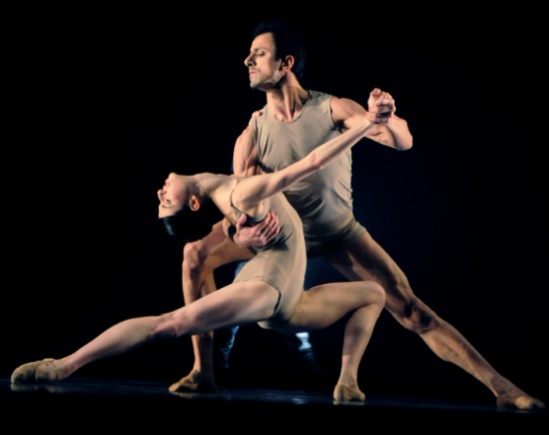 Milwaukee Ballet's Winter Brilliance
John Schneider on February 23, 2012
The three world premieres in the Milwaukee Ballet's moving Winter Series at the Pabst Theatre last weekend deserve many more performances, but it's hard to believe they will ever be better cast.  Each wildly different, highly individual, contemporary once-act ballet was created from scratch with these performers, so an organic quality and sense of authenticity can be expected, but these choreographers were also perfectly cast, so to speak, for the company's strengths.
Guest choreographer Brock Clawson's unforgettable Crossing Ashland was about big questions. It began with a man alone in a spotlight almost levitating though his own physical energy like a plant desiring sun.  Others arrived in couples and small groups, dancing big, gorgeous movements in tight costumes with bared arms and legs.  Soon, along the back of the stage, the same dancers in street clothes crossed like big city pedestrians.  Crossing, they showed us what we look like; dancing, they showed us the enormity of what we feel.
What seemed at first pure dance gathered language-meaning in a ravishing duet by Courtney Kramer and Marc Petrocci:  it may be possible to thrive in the radiant energy, so to speak, of another human being, but it is also frightening.  Clawson's choices of music demonstrated a great knowledge of contemporary composition and served his ballet well as it swept along, gathering great power as the dancers seemed to see the world from new perspectives through the circling arms of others, or stood frozen in fear.