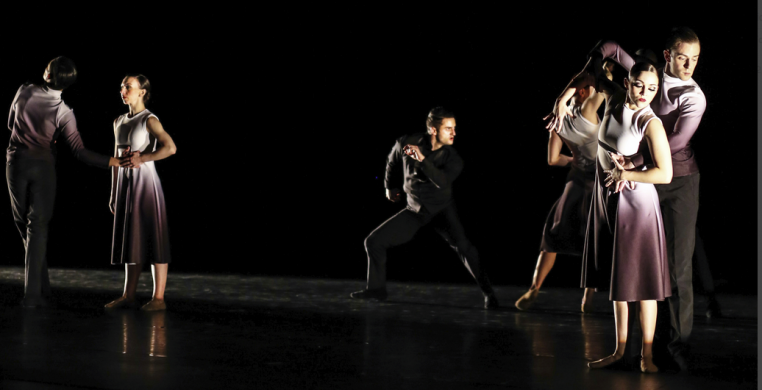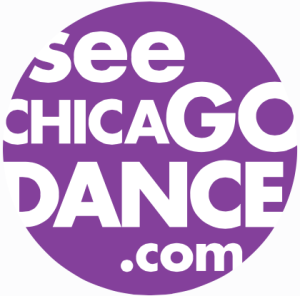 GORDON DANCE CHICAGO DAZZLES AT THE HARRIS
Lynn Colburn Shapiro on April 5, 2016
Giordano Dance Chicago once again dazzled the Harris Theater stage with its unique brand of dancing joy. Drawing from recent and past repertoire and premiering Brock Clawson's "Sneaky Pete," the well-balanced program of six works spread the glory across a pleasing variety of contrasting moods and styles.
At this point in its 53-year history, a program this varied, and yet completely faithful to its jazz dance aesthetic, is proof positive of the company's commitment to the expansion and development of the jazz dance idiom on the concert dance stage. True to the memory of its founding director, Gus Giordano, the company plunges boldly into new territory while preserving the richness of its roots, with all six works showcasing the dancers' ever-deepening artistic range, polished-to-sparkling technique, and clean-as-a whistle ensemble performance. As a major proponent of jazz dance on the concert stage, Giordano Dance Chicago seems to be preserving and enriching something uniquely theirs, when other jazz-based dance companies have abandoned the genre and morphed into the realm of balletic contemporary dance.
Make no mistake, the Giordano dancers don't lack for ballet chops–case-in-point, the multiple pirouettes, perfectly controlled balances "en relevé," superb extensions, and spectacular jetés in evidence last Friday night–but they are in service of choreography and music that tap the heart and soul of jazz.
Dark mystery surrounds Brock Clawson's "Sneaky Pete" as it courts film noire narrative with tongue-in-cheek silent movie moves. A razor-sharp Zachary Heller prowls the stage like an old time movie villain, practically twirling an imaginary mustache as he plots some dastardly deed in between spot-on pirouettes and darting leaps. Sneaky indeed, he infiltrates an ensemble led by Maeghan McHale's steamy siren in eye-catching variations of social dance forms and abstract moves. Shifting combinations of duets, and unison ensemble dancing use the stage with a keen eye to visual design and Clawson's distinctive choreographic invention. A modern take on classic movie suspense music by veteran movie composers Kerry Muzzy, Abel Korzeniowski, and Adam Crystal builds anticipation in a kind of Philip Glass-inspired repetition. What is Pete up to, anyway? Will he crash the party? Kidnap the sexy dame in red? We never really know, because McHale's femme fatale catches him before he has a chance to act, confronting him for the group to chase him out with dramatic flare. A fun little diversion that begs even more.
The company's execution of Ronan Koresh's dynamic "EXit4" (2013) just gets better and better, with super precision group work and more nuanced attention to the interplay of gravity and suspension. On this viewing, I'm especially struck by Koresh's seamless blend of culturally-specific head bobbing and hand gestures that develop thematically in larger full-body gesture with fan kicks and balletic arabesques, pedestrian hugs, and split leaps, loud group yelling, and even some hip-hop influence. A head-long rush of mob energy propels the almost non-stop intensity of an explosive piece that grabs you with the poignancy of human struggle.
The first half of the program reprises Jon Lehrer's "Like 100 Men" (2002), a showcase for the company's six superb men, dressed in button-down shirts and ties. Set to the jazzy Johnny Frigo score, "Like 100 Men" capitalizes on some inventive male/male partnering, and a spatial tapestry of ever-shifting solos, duets, trios, and quartets that lets each of the six shine individually.
Complementing the all-male piece is Autumn Eckman's "commonthread" (2009) for five women, performed in the second half of the program to Dan Myers' live electric violin. This sunny celebration of life uses a breathy vocabulary of circling torsos in fast-moving interchange. Here, the Giordano women excel in the attenuated extension and expansive use of space.
Kiesha Lalama's always popular "Alegria" (2011) brings a Latin jazz feel to the mix, with Rodrigo y Gabriela's salsa rhythms and south of the border social dance idioms.
The final piece on the program, Gus Giordano's "Sing Sing, Sing" (1983), retooled for these concerts from a trio to a full-company work, is a perfect example of the company's fidelity to its tradition and commitment to keeping that tradition vital for its evolving company and audiences.  "Sing Sing Sing," set to the iconic music of Louis Prima, puts the  Giordano spin on swing dance and jitterbug in a jazzy, exhilarating workout for the entire company. The expanded staging of a Giordano classic reflected back on the five previous pieces in way that let us see a thread of continuity in all of their work and made a fitting conclusion to a knock-out night of terrific dancing.