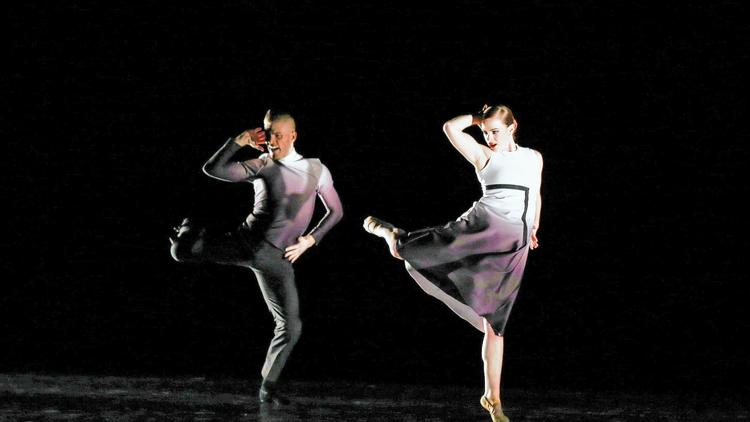 Brock Clawson tells tales in Giordano's New 'Sneaky Pete'
Laura Molzahn on March 30, 2016
Bad guys go way back, of course — but they don't often turn up in dance, especially contemporary dance. That changes with Brock Clawson's new "Sneaky Pete" for Giordano Dance Chicago's spring program, Friday and Saturday at the Harris. Clawson's world premiere joins repertory favorites spanning three decades, including Nan Giordano'snewly restaged full-company version of Gus Giordano's 1983 "Sing, Sing, Sing."
Rehearsing "Sneaky Pete" in a studio a fraction of the size of the Harris stage, the company's 11 speedy, vigorous dancers were like a compressed gas, charging the space with heat and energy. Seated nearly underfoot, I could see the thrilling muscular effort powering Clawson's high-flying lifts and tosses for the five couples, while Zachary Heller as the eponymous antihero slunk around and through the crowd, alone with his evil thoughts.
"I think it feels a bit faster in this space, because everything's so close," Clawson says. "There are actually a lot of lyrical moments in the work: Onstage, it's more subtle. But it is fast. I wanted it to have an energy, a drive — and by the end, when the story is coming to a crescendo, I wanted it to feel like something was about to break." Propulsive, nuanced music by film composers Adam Crystal, Abel Korzeniowski and Kerry Muzzey helps.
Breaking into musical-theater choreography in just the last couple of years, Clawson comes late to a form of dance that was Gus Giordano's first love: In the early '50s, he danced in Broadway musicals. Several decades later Clawson got the inspiration for "Sneaky Pete" from a mention of the moniker in Stephen Sondheim's "Company," which he's currently choreographing for a Writers Theatre summer production. He also choreographed the Paramount's staging of "The Who's Tommy" in early 2015, for which he received a Jeff nomination.
"When I was a kid, I had a love of musical theater," Clawson says. "But it turned out I couldn't sing — I was a better dancer, so I took the direction of choreography. Now, in a lot of ways, it's full circle. I'm trying to take what I've learned from choreographing musicals and incorporate it into concert dance." And vice versa.
"I always tell people," Clawson says, "that I've had the privilege of sitting in front of some of the greatest dancers in the country. But when you go in to work on a musical, you're sitting there in front of amazing vocalists, amazing actors, amazing dancers. That just fuels my day — it keeps things fresh for me."
Of course the "Sneaky Pete" character and story aren't nearly as complex as they'd be in musical theater. The dance is only 12 minutes, so the tale has to be simple. And it's somewhat abstract: "I wanted the audience to draw their own conclusions about Sneaky Pete's reason for being sneaky," Clawson says. A female lead, performed by Maeghan McHale, sees him in a clearer light than the others onstage. But even the villain isn't all that nasty, says Clawson, who's aiming for a slight comic edge.
He's also aiming for a film noir look to the lighting and costumes. "I've always loved film noir — the style, the sleek, clean lines." He felt those would work well with his choreography, which he describes as balletic in its formations while the movement is contemporary — and, to my eye, elegant. "My goal was to do something that had a sophistication to it."
The last piece Clawson choreographed for the Giordano troupe was the brisk but emotionally nuanced "Give and Take," in 2009. He and artistic director Nan Giordano say they've been looking for a second opportunity to work together ever since.
"Brock is so easy to work with — efficient and organized," Giordano says. "Life is too short, and I like working with people that I like and that the dancers like, people who are going to push them and elevate them."
When I mention the dancers' enthusiastic performances, Giordano says they "take that (rehearsal) space and use every inch of it." They also seem to love cheering each other on.
"I don't tolerate anything but positive energy," Giordano explains. "And most of these dancers have been together for a long time now — I've known many of them since they were teenagers. It's a special group."
Clawson, she adds, "knows we're a small nonprofit doing huge things. But that's why we've survived for 53 years. We're going into our 54th season, and thriving — we're not surviving, we're thriving."